Garbage disposal is a common industry that applies globally but also to each house individually. You will most likely need a garbage disposal system for your household and the one you choose will have to work best for your needs. Barracuda is one of the best private labels that you can invest in and they are easy to use as well. 
The following products are the most appreciated garbage disposals from Barracuda. All the following options are UL approved and you will not have to worry about their quality at all, once you install them properly in your home. 
1. Barracuda 1/2 HP Mid Duty Food Waste Disposer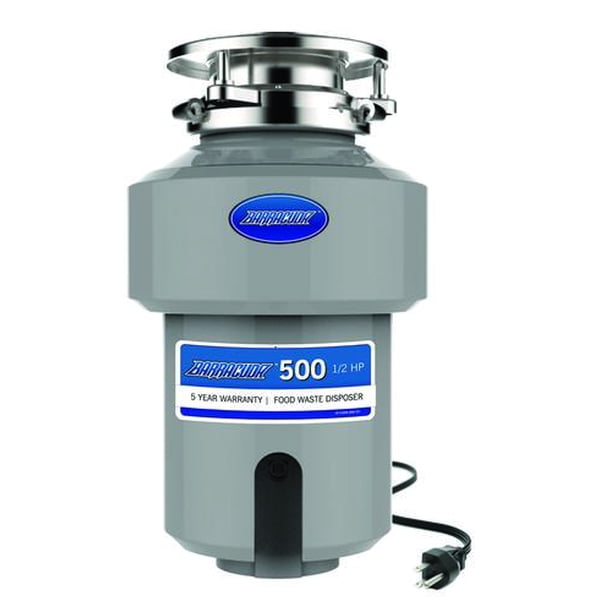 This Barracuda garbage disposal comes with the best features and also a very budget-friendly cost. You will love the grinding mechanism that is made of a ring that is laser-sharp yet it comes with no blades. This system has impellers, a turntable that is balanced enough, armatures and all the cutting parts you need as well as a great RPM. 
You will appreciate that the grind chamber is corrosion free and the drain housing will not corrode either over time. All the grinding pieces are made of a resistant stainless steel that you will be able to rely on for a long time. 
Even if this system is not the most silent one on the market, it will still be decently quiet as the shell is sound insulated. Installing this garbage disposal is not difficult either and it comes with all the instructions you might be interested in. This product comes also with a 5 year warranty as a clue regarding its long life span. 
2. Barracuda 1/2 HP Economy Food Waste Disposer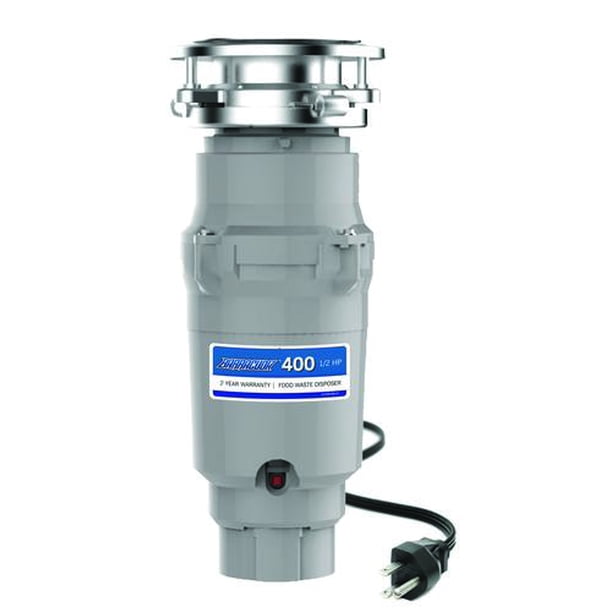 Another Barracuda garbage disposal that you will be able to rely on is this 1/2 Economy food waste disposer. With this garbage disposal, only the turntable is made of stainless steel. The other components are made of cold-rolled steel that is still very durable and reliable. 
This garbage disposal also comes with a laser-sharp ring that has no blades and the rest of the components you expect to see such as the impellers, armatures as well as cutting parts. 
The permanent motor of this product uses a magnet that helps it generate a great torque. The drain housing and grind chamber are resistant to rust and they should last you a long time. 
Installation requires 3 bolts as most garbage disposals from this brand. You will find all the instructions you need inside the package. 
3. Barracuda 1/3 HP Builder Food Waste Disposer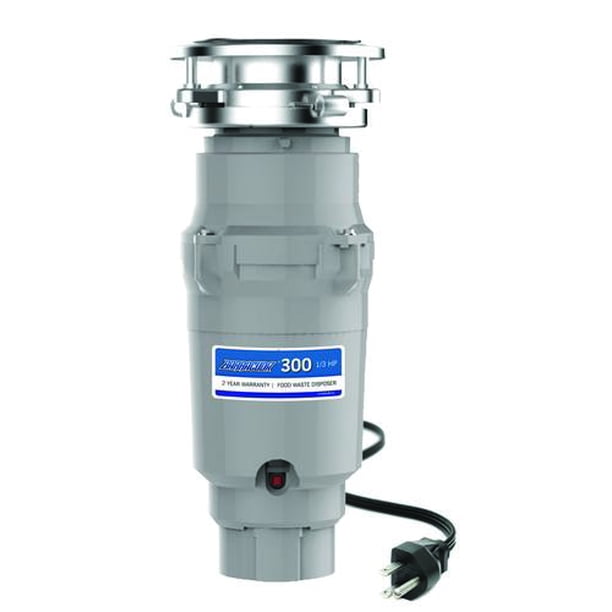 This 1/3 HP builder food waste disposer offers you the best balance between a convenient investment and a reliable quality. The cutting parts of this disposal are very high quality so you can rely on them in the hardest conditions. At the same time, the impellers are made of a resistant stainless steel that you can rely on as well. 
The laser sharp ring of this garbage disposal also comes with no blades. At the same time, the turntable is very well balanced. The magnetic motor of this product comes with a high RPM and it is rather quiet as well. Other materials used to make this product are different types of steel such as cold-rolled steel. This product comes with a 2-year warranty that you can use in case you have issues with your product. 
4. Barracuda 3/4 HP Deluxe Food Waste Disposer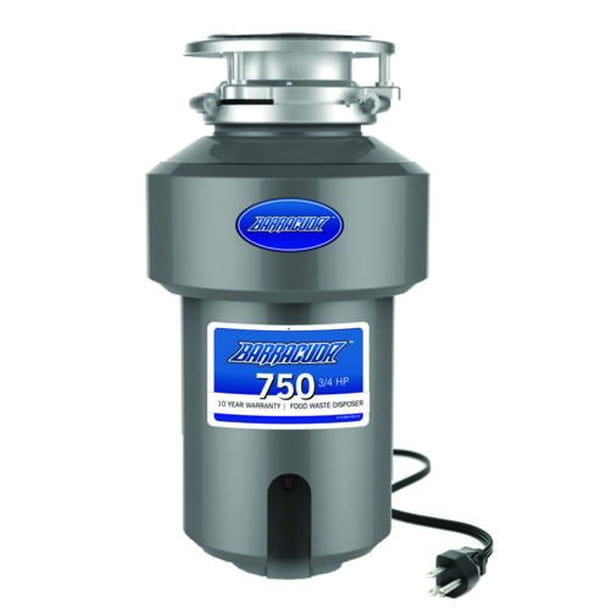 The last garbage disposal from Barracuda that you could consider investing in is the Deluxe food waste disposer. This product will not disappoint you at all and you will find out that it is very easy to use too. 
This garbage disposal has similar parts to the rest of them but it is a bit more resistant and quiet compared to others. The increased life span of this disposal is shown by its 10 year warranty as well. The impellers are made of stainless steel so you can count on their efficiency and you will not have to worry about corrosion. The motor of this product is a permanent magnet Torque and it is ideal for daily use with the best efficiency. 
Who makes barracuda garbage disposals
Barracuda is a popular brand in the industry of garbage disposal, owned by Anaheim Manufacturing Co. The same company makes Waste King and other similar private labels. Barracuda, however, is more on the budget side and a lot more user-friendly which is why it is one of the most popular choices when it comes to garbage disposals. 
How to unjam a Barracuda disposal
If you need to unjam your garbage disposal, your first thought might be to call a professional plumber. But chances are that you can do that all by yourself as well. 
If your garbage disposal won't make any sound, chances are that it is overheated which is one of the most common issues with these products. If that is the case, you might want to try pushing the reset button that you can find on the bottom of your disposal. Make sure you turn the power switch off as well. Allow your garbage disposal to have a few seconds, not more than five, and turn the power back on. In most cases, resetting your disposal will fix the problem. 
However, if resetting the disposal will not give you the desired outcome, try checking the circuits connected to it. Resetting the circuit might also take care of the problem. 
If your garbage disposal is still jammed, you want to use the unjam key that most of these products come with. Insert the key at the bottom of your disposal where you will find a specific hole for it and switch it left and right. Doing so will free the flywheel and help you get rid of the jam. 
Where is the reset button located
The reset bottom is a saving button for many issues you might have with your garbage disposal. Usually, this bottom is located at the bottom of your product but depending on the model you might find it in other locations too. There is usually an indicator on your garbage disposal that lets you know where the reset button is so you will not have to look too hard for it. 
Installation of Barracuda Garbage Disposals
Installing Barracuda garbage disposals is usually fairly easy. You will have to turn the power off from the circuit breaker that goes to your kitchen. Unpack all your parts and check the scheme that comes with your garbage disposal as they will show you the order you need to follow during installation. 
Make sure you use a towel and a container to prevent any sink leaks that could happen during installation. 
You will have to take apart the mounting assembly from the dispenser which you can do by turning the ring it comes with clockwise. Unscrew the sink flange support ring and take away the gasket made of fiber. Some sinks will require putty while others will just need the rubber gasket. 
The next thing you will do is insert the sink flange into the opening of the sink through the rubber gasket. Attach the fiber gasket to the sink flange and get it as tight as you can. 
The last thing to do is attach the disposer under your sink. Make sure you attach it in such a way that the reset button is easy to access as needed. 
Main competing brands
Some of the main competitors for Barracuda garbage disposal are Waste King, InSinkErator, and Moen. 
Waste King is the closest brand to Barracuda as it produces similar products with a difference in terms of price and maintenance though. This is a brand with a history of 50 years that is well known for its kitchen accessories and appliances. It is interesting to note that both Waste King and Barracuda are made by the same Anaheim Manufacturing Co but there are still differences between the two private labels. 
InSinkErator is not a brand known only for garbage disposals but also for its instant warm water disposers. This brand is known by Emerson Electric and it is less popular than Barracuda but still fairly appreciated. 
Moen on the other hand has a wider range of products and some of them can compete with Barracuda garbage disposals. This brand produces faucets as well as other types of fixtures and you can use it to find different parts you might need for your kitchen appliances. 
Final thoughts
Barracuda garbage disposals are not only reliable but very easy to use and install as well. You can expect such a product to last you a minimum of 15 years as long as you maintain it properly. Addressing any type of issue you notice at your garbage disposal will help you prolong its life and prevent more complicated problems that you might encounter. Make sure you try out the tips in this guide before calling a plumber to install or maintain your disposal as you might be able to save a significant amount of money down the road!